My husband and I joke that we're the worst couple to have over for dinner. Our problem isn't that we're messy eaters or that we chew with our mouths open (or at least we haven't heard a complaint on those accounts yet), but between my vegetarianism and his allergy to dairy, it's can be hard to find traditional meals we can both eat.
This is no different on holidays. Holiday meals usually consist of hearty meats, creamy cheeses and buttery dishes. We love spending time with our families over the holidays, but between our two dietary restrictions, we usually find ourselves only able to pick at the meal.
We decided to add to the feast by bringing our own dishes as a way to help lighten the cooking load. These are our favorites when it comes to vegan dishes, add them to your holiday menu this year!
A Take on Mom's Lasagna
This dish serves as a perfect main course for any vegan but also makes a good side for anyone in the family.
1 box lasagna noodles
1/4 cup almond milk
16 oz spinach
8 oz vegan ricotta
1 jar marinara sauce
1 tablespoon olive oil
2 carrots, diced
1 zucchini, diced
Heat olive oil in saucepan over medium heat, add carrots and zucchini, stirring often. Cook for about 6 minutes. Add spinach and cook for 2-3 minutes. While waiting for veggies to finish, cook the noodles. You'll need at least 12 strips of noodle for the four layers.
Preheat oven to 350 degrees. In a large bowl, combine mixture of veggies with non-dairy milk and vegan ricotta. Assemble the lasagna by pouring a thin layer of tomato sauce on the bottom of your 9x14 baking dish. Layer the noodles and the veggie/ricotta mix. Start the pattern again with a layer of sauce, noodle, veggies until you reach your forth layer of pasta. Cover the top layer with sauce, then cover the dish with aluminum foil. Bake for thirty minutes, remove the aluminum foil, and continue baking for another 10 to 15 minutes. Let cool for 10-15 minutes and, if you like, sprinkle basil on top. Slice and serve!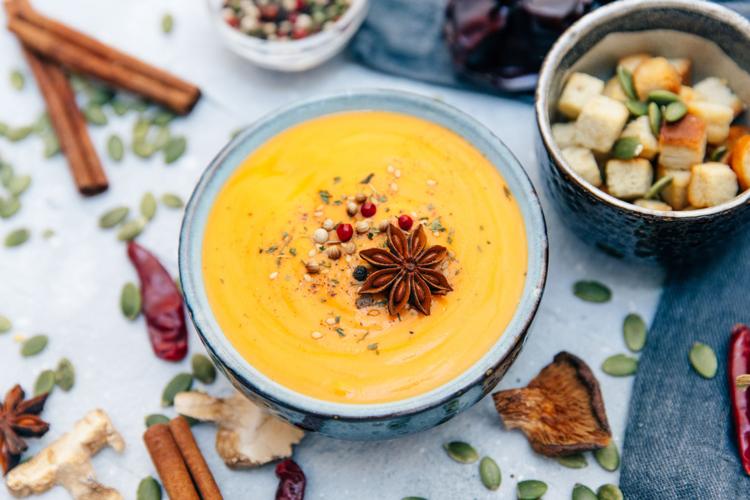 Yummy Squash Soup
Ingredients:
3 cups squared butternut squash
1 cup vegetable broth
1 cup almond milk or other non-dairy milk
1 tsp maple syrup
2 tsp olive oil
2 tbsp roasted almond butter
1/4 tsp paprika
1/2 tsp cinnamon
1/2 tsp salt
a dash of pepper
Cut butternut squash into cubes. Mix cubes in your blender with 1 cup vegetable broth until smooth. Put the mixture in a large pot over low heat and add non-dairy milk, syrup, olive oil and almond butter. Let simmer for about ten minutes, then add paprika, cinnamon, salt and pepper. Let simmer for another 15 minutes then pour the soup back into the blender. Blend well until very smooth. Pour soup back into pot and heat for 2-3 minutes. Get creative by adding pumpkin seeds or toasted nuts.
The Best Dairy-Free Cornbread
This recipe is a take on an old family creation that used a "secret" ingredient of applesauce to make it just a little bit sweeter.
Ingredients:
2 cups cornmeal
1 cup flour
2 tsp baking powder
3/4 tsp salt 1/2 salt
1 1/2 cups almond milk
1/3 cup vegan butter
1/4 cup canola oil
1/4 cup applesauce
2 tablespoon maple syrup
Preheat oven to 425 degrees. Using a hand mixer, combine cornmeal and flour, then slowly add rest of ingredients. Bake in an 8x8 pan for 20 minutes.