Over the years and across culinary landscapes, the zucchini has proven itself to be a versatile ingredient. While typically served raw, steamed or fried, the zucchini can also be an effective component for baking.
The zucchini falls into the squash family and has an appearance similar to a cucumber. It finds most of its utility in the numerous health benefits stored inside the unassuming fruit — a great source of vitamins, proteins and dietary fibers. Though botanically a fruit, zucchini is treated as a vegetable when cooked and often finds itself in dishes alongside other vegetables. But beyond its role as a side dish, zucchini can be utilized in creating a variety of breads and baked goods.
Jeneane Kehew, a first-grade teacher at Apollo-Ridge Elementary School, has been baking with zucchini for years. Summer break allows her the time to craft recipes for various pastries, including cakes, cookies and zucchini breads, which she makes for family, faculty and students in the fall.
Kehew got the recipe for zucchini bread from a relative and has made it her own over time — adding things like lemon, blueberry or raspberry to the mix. While not affecting taste, zucchini gives the bread moisture that helps keep the goods fresh. While baked goods are not necessarily the healthiest, Kehew admits, the added moisture is essential, and the benefits of zucchini are still present.
"It definitely puts the vitamins into whatever you're eating", Kehew says. "You're sneaking it in there."
Zucchini is a good source of thiamin, riboflavin, niacin, vitamin B6 and phosphorus, and an even better source of fiber, vitamin A, vitamin C, vitamin K, folate, magnesium, potassium, copper and manganese.
Kehew also comments on how easy it is to grow zucchini, showing resilience that allows it to be harvested year-round.
"Whether it's a dry season or a wet season, it seems to tough it through," Kehew says.
When growing zucchini, it can be picked at different stages of growth depending on how you intend to serve it. When small and ripe, they can be picked and sliced, whereas they need to grow large to be appropriate for baking. Zucchini grows rather quickly and usually leaves Kehew with excess to take to the farmers markets.
Although zucchini itself cannot be stored long-term, the survivability of goods baked with zucchini rises greatly if sealed properly. Kehew says frozen zucchini breads can retain moisture even when defrosting months later.
Being surrounded by friends and family that grow zucchini has given Kehew the opportunity to find new ways to prepare it. Although she typically sticks to pastries and breads, Kehew also frequently bakes sliced zucchini. Dipped in egg, bread crumbs, seasoning and baking it on parchment paper, the baked slices of zucchini come out crispy, effectively creating zucchini chips. Kehew advises that baked zucchini is healthier than frying it up, and one can also remove the bread crumbs to make it an even healthier snack. Kehew also mentioned that her sister has a recipe for zucchini lasagna, which effectively replaces the pasta noodles with sliced zucchini.
Although not often considered when discussing your typical fruits and vegetables, the zucchini subtly outshines a lot of its culinary counterparts. With a plethora of cooking methods available, along with its ease of growth and clear health benefits, the zucchini should be considered in just about any diet.
Check out the recipe for Jeneane Kehew's zucchini bread, as well as a handful of her other pastries.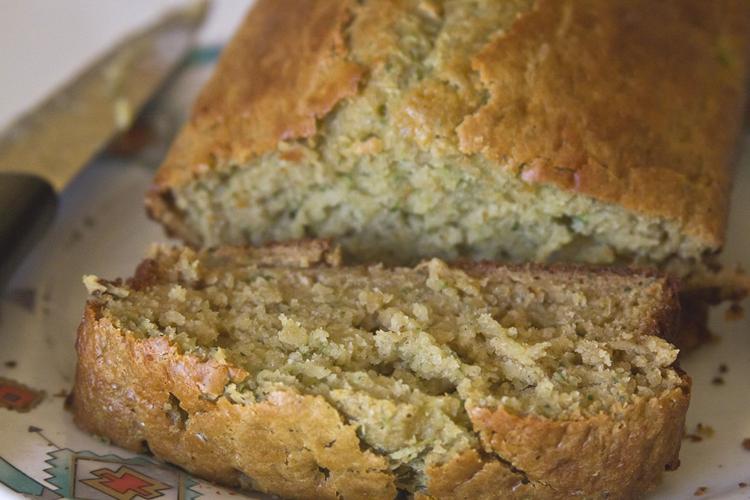 Zucchini Bread
(basic recipe, can add other ingredients)
Ingredients:
3 eggs
1 cup of canola oil
2 cups sugar
3 tsp vanilla
2 cups shredded zucchini
3 cups flour
1/4 tsp baking powder
1 tsp baking soda
2 tsp cinnamon
1 tsp salt
(optional) 1/2 cup of any of the following: raisins, chocolate chips, walnuts, craisins, blueberries
Directions:
Preheat oven to 325*.
Grease and lightly
flour 2 regular sized loaf pans.
Beat wet ingredients together.
In a separate bowl, stir together dry ingredients.
Add dry ingredients to wet ingredients.
Fold in any optional ingredients.
Pour batter into 2 loaf pans.
Bake 1 hour and 15 minutes or until toothpick comes out clean.
Cool in pans for 15 minutes before taking out and cooling completely on wire racks.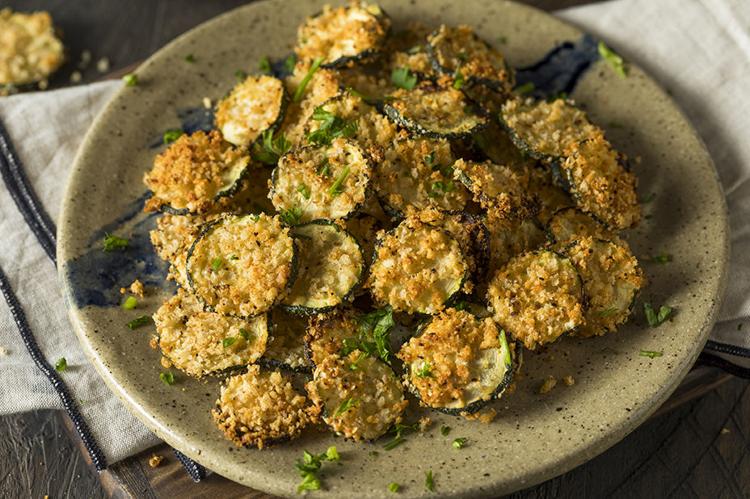 Baked Zucchini Slices
Ingredients:
1/2 cup flour
1 egg + 1 egg white
1/2 cup Panko crumbs (I use 1/4 regular Panko and 1/4 Italian Panko)
1 small zucchini
1/4 cup Parmesan cheese
1/2 tsp smoked paprika
Salt & pepper
Directions:
Preheat oven to 425*.
In a bowl, mix flour, salt and pepper.
In a separate bowl, beat eggs.
In a third bowl, mix bread crumbs, cheese and paprika.
Peel (optional) and slice zucchini ~1/4-inch thick.
Dip slices into flour, then egg, then breadcrumbs.
Bake for 20 minutes on cookie sheet lined with parchment paper sprayed lightly with cooking spray, flipping after 10 minutes.
Bake at 425* for 20 min. (flipping after 10 minutes).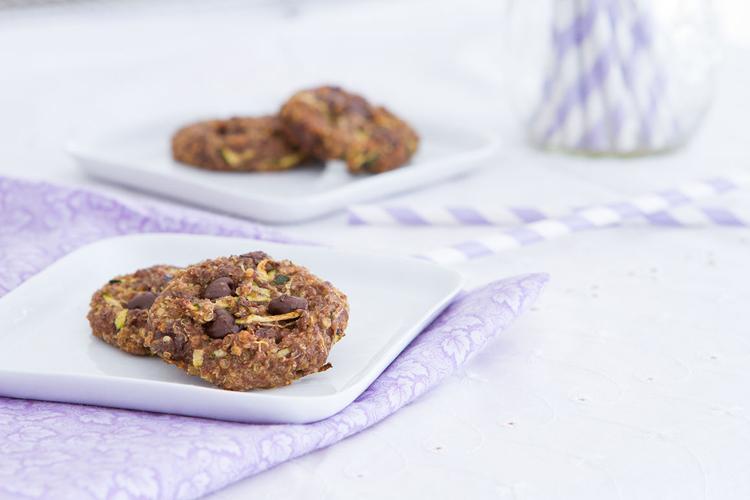 Chocolate Zucchini Cookies
Ingredients:
1/2 cup butter-flavored shortening
1/2 cup white sugar
1/2 cup brown sugar
1 egg
1 tsp vanilla extract
2 1/4 cups all-purpose flour
1/4 cup unsweetened
cocoa powder
1 tsp baking soda
1/2 tsp salt
1 3/4 cups grated zucchini
12 oz. bag of semisweet chocolate chips
Directions:
Preheat oven to 350*. Line cookie sheets with parchment paper.
In a medium bowl, mix together shortening, white sugar and brown sugar until smooth.
Beat in egg and vanilla.
Combine flour, cocoa, baking soda and salt; gradually stir into the creamed mixture.
Fold in grated zucchini and chocolate chips.
Drop by rounded spoonful onto prepared cookie sheets (batter will be very wet).
Bake for 10-11 minutes.
Allow cookies to cool on baking sheet for 5 minutes before removing to a wire rack to cool completely.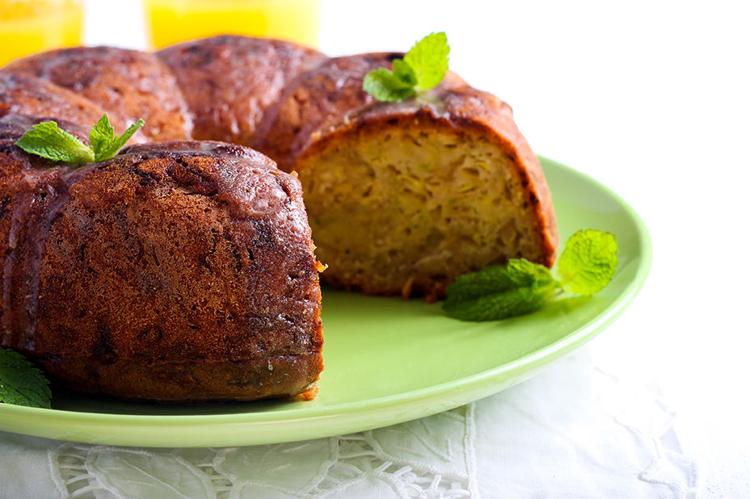 Cinnamon Swirl Zucchini Bundt Cake
Ingredients:
3 cups all-purpose flour
1 tsp baking soda
1/2 tsp baking powder
1 tsp ground cinnamon
8 oz cream cheese, softened
2 cups sugar
3 eggs
2 tsp vanilla extract
1 cup butter, melted and cooled
2 cups zucchini, shredded
Swirl
1/3 cup sugar
1 tbsp cinnamon
Cinnamon glaze
1 cup powdered sugar
1/2 tsp cinnamon
1/2 tsp vanilla
3-4 tsp milk (depending on desired thickness)
Directions:
Preheat oven to 350*. Grease and flour a Bundt pan.
Beat cream cheese and sugar on medium speed for 2 minutes. Add eggs one at a time, mixing for one minute after each. Add vanilla and melted butter and mix. Beat for 3 minutes with mixer on medium-high.
Mix in flour, baking soda, baking powder and cinnamon until just incorporated. Add zucchini and mix.
Stir cinnamon and sugar together in small bowl for cinnamon swirl.
Pour a third of cake batter into prepared Bundt pan. Sprinkle cinnamon swirl mixture over batter. Repeat. Finish with the rest of the batter.
Bake for 1 hour or until toothpick inserted comes out "clean". Remove from oven and cool for 20 minutes.
Then place on a wire rack and let cool completely.
Mix glaze ingredients together in small bowl.
Drizzle over cake.