Leafy greens are considered some of the healthiest vegetables you can eat. Spinach, kale, romaine, arugula, chard — these are loaded with vitamins A, C and K, and essential minerals such as iron and folate. Try these recipes starring leafy, green vegetables to pack a healthy punch to your daily diet.
Mediterranean Salad
This salad is loaded with good stuff — spinach with vitamins C and K, fiber and manganese, a mineral essential for your metabolism and bone health. Meanwhile, chickpeas provide protein, peppery arugula spices it up and the lemon vinaigrette sweetens the deal as a low-calorie dressing. Serves about 4
3 cups baby spinach
2 cups arugula
1 cucumber, diced small
1 jar (about 12 ounces) roasted red peppers, cut into thin strips
1/2 cup grape tomatoes, cut in half
1 cup pitted Kalamata olives
1/2 cup crumbled feta cheese
1 cup spiced chickpeas
1 1/2 cups lemon vinaigrette
Spiced Chickpeas
One 15-ounce can chickpeas, drained and rinsed
1 tablespoon olive oil
1/4 teaspoon ground coriander
1/4 teaspoon ground ginger
1/4 teaspoon paprika
1/2 teaspoon cayenne pepper
1/4 teaspoon kosher salt
Preheat oven to 425*. In a small bowl, combine chickpeas with oil and spices. Spread on a baking pan and bake for about 30 minutes, occasionally shaking the pan to mix things up, or until chickpeas are golden and crunchy. Let cool. These can be stored in an airtight container for about 2 weeks — they also make a great snack.
Lemon Vinaigrette
1/4 cup fresh lemon juice (about 2 lemons)
1/4 cup white-wine vinegar
2 teaspoons sugar
1 teaspoon coarse salt
1/4 teaspoon ground pepper
1 cup olive oil
Whisk (or blend) together lemon juice, vinegar, sugar and salt. Slowly whisk in olive oil. Finish with black pepper.
Tropical Green Smoothie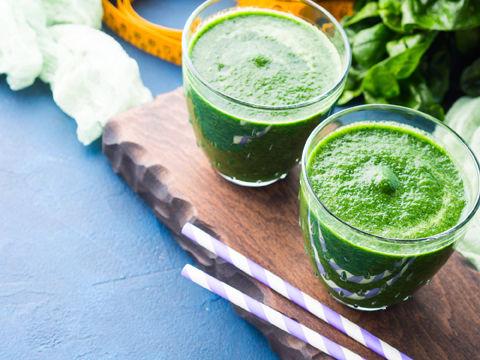 Want a great way to start your morning? This drink will have you feeling like you're on an island escape, even if you're stuck in traffic. The great thing about smoothies is adjustable fruit content — increase to sweeten it up or decrease to tone it down. You can also substitute frozen for fresh fruits, especially when your favorites are out of season. Makes two smoothies
2 cups frozen kale
1 cup pineapple, frozen
1 medium sized banana, fresh
1 cup strawberries, fresh
3 cups unsweetened plain almond milk
1 teaspoon vanilla extract
Blend kale, almond milk and vanilla extract until smooth. Add in fruit and blend until smooth. Enjoy!
Red and Green Beet Crostini
This bright and beautiful appetizer is sure to catch eyes and excite taste buds. The beet greens are packed with vitamin A and iron, the beets are full of fiber, and best of all of there's practically no waste making this dish. Add it to the menu of your next party. Makes about 2 dozen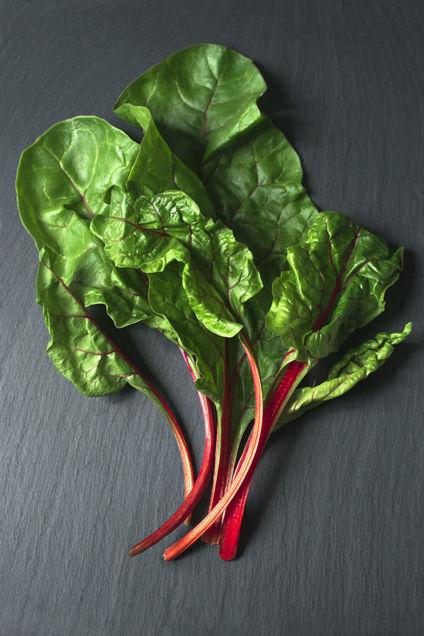 Crostini
1 loaf crusty French bread
1 tablespoon olive oil
1 clove garlic, minced
2 teaspoons salt
1 teaspoon ground black pepper
Preheat oven to 400*. Cut the French bread on a diagonal into 1/4-inch pieces and spread them on a baking pan. Mix olive oil, garlic, salt and pepper and brush top side of bread piece. Bake for 4-5 minutes, or until toasted golden brown.
Beet spread
2 pounds beets (with tops attached)
2 cloves garlic
1/2 cup olive oil
2 teaspoons lemon juice
1 teaspoon salt
1 teaspoon ground coriander
Preheat oven to 425*. Trim beet tops off (do not discard) and wash beets thoroughly. In a large, cast iron or other heavy pot, place beets and cover with water. Cover and bake for about 2 hours, or until beets are soft. Remove beets from water and let cool. Remove skins by sliding them off (you might want to use gloves), then cut beets in to large chunks. In a food processor, combine beets, garlic, lemon juice, salt and coriander. Blend until smooth, then while the processor is still running, slowly pour in oil. Chill.
Topping
3 cups beet greens, cut into thin strips
1/4 cup shredded asiago cheese (you can substitute parme- san or other hard cheese)
2 tablespoons olive oil
1 tablespoon minced garlic
2 teaspoons salt
1 teaspoon black pepper
In a medium sized mixing bowl, combine all ingredients.
To assemble, spread about 2 tablespoons of the beet spread on crostini then top with a bit of the beet green topping. Serve immediately.