You know the routine. Life's hectic, and you're short on time. For ease and convenience, how often do you find yourself reaching for pre-packaged, processed foods or hitting the drive-thru after work? Even grocery stores provide single-serving meals you can heat for a quick bite.
The cost for this convenience is high. Not only are you paying a premium price for packaging, but the food is often loaded with empty calories, excessive sugar and salt that wreak havoc on your metabolism. Ingredients also typically include unhealthy fats like vegetable oils and additives, preservatives and flavorings.
There is an alternative: Mug recipes. Like the name implies, these are meals made in a mug with ingredients from your own kitchen. Most recipes take advantage of a microwave, taking mere minutes to prep and eat. Mug recipes are ideal for anyone — busy professionals, kids-on-the-go, parents and college students.
We've rounded up some recipes to get you started. Power up for the day with a healthy breakfast filled with vegetables. Quick and portable granola is an ideal snack for mid-day munching. If you want something with more heft, try cheesy spaghetti and sausage. And for a dessert that satisfies without guilt, the flourless chocolate cake will surprise you — but this one uses the oven to give you the bonus of a warm house filled with chocolate aroma.
Veggie and cheese breakfast in a mug
Recipe courtesy of Hitomi Aihara from Tasty
Ingredients:
1 slice bread
1 egg
2 tablespoons milk
1 pinch cheddar cheese
salt, to taste
pepper, to taste
1 small handful spinach
red pepper, diced
tomato, diced
Instructions:
Slice bread into cubes.
In a bowl, mix egg, milk, cheese, salt and pepper.
In a microwave-safe mug, place half the cubed bread and desired amount of spinach and red pepper.
Layer the rest of the bread and pour egg mixture on top.
Microwave for 1 1/2 minutes or until egg is fully cooked.
Sprinkle with tomatoes, if desired.

---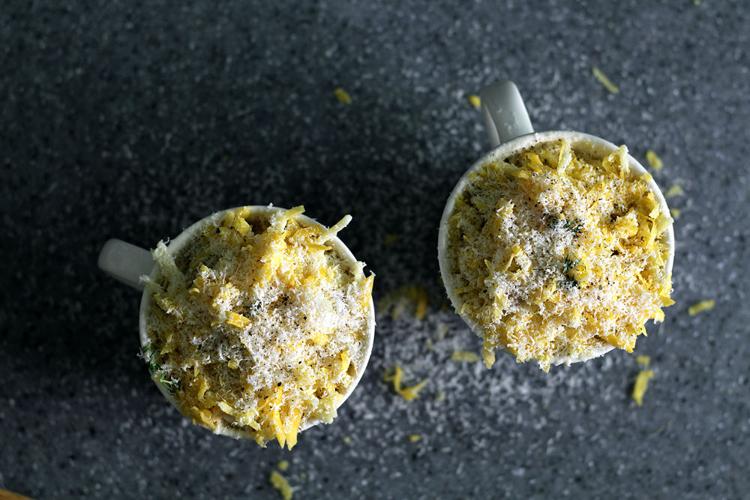 Cheesy spaghetti and sausage
Recipe by Mandy Lee from Lady & Pups   
Serves 2
Ingredients:
1 1/2 cup spaghetti, broken into short segments
1 1/2 cup water
1/4 tsp salt
1 cup half and half
1/8 tsp freshly grated nutmeg
1/2 heaping cup shredded fontina cheese
1/2 heaping cup shredded sharp cheddar, plus more for topping
1/3 cup grated Parmigiano cheese, plus more for topping
Salt and freshly ground black pepper to taste
4.2 oz sweet Italian sausage
1 clove garlic, finely minced
2 sprigs fresh thyme
1 tsp unsalted butter
Instructions:
Combine spaghetti, water and salt in microwave-proof bowl and stir.
Cover bowl and microwave on high for 4 min, stir. Cover and microwave on high for 3-4 min (depending on noodle thickness) until pasta is al-dente and water is mostly absorbed.  
Add half and half, grated nutmeg, shredded fontina and cheddar, and grated Parmigiano cheese. Mix evenly and season with salt and pepper. Set aside.
Divide Italian sausage, minced garlic, fresh thyme and unsalted butter into 2 mugs.
Mix slightly, microwave on high for 1 min.  
Break up sausage meat with a fork (shouldn't be completely cooked yet) and return to the microwave for another 1:30 min.  
Divide spaghetti and cheese mixture into mugs and mix with sausage on bottom. Top with more shredded cheddar, Parmigiano cheese and freshly ground black pepper.  
Microwave on high for another 3:30 min until hot and bubbly — you might want to place a sheet of parchment on the bottom in case it overflows — and serve.

---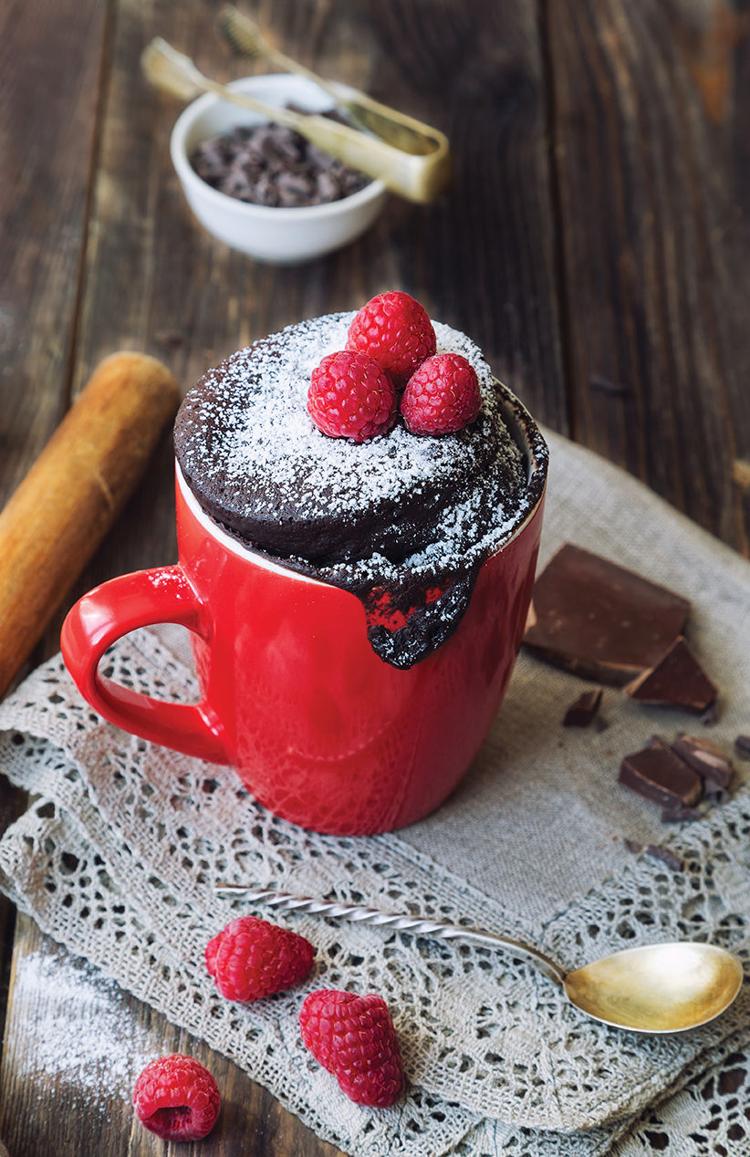 Flourless chocolate cake
Recipe by Sebastien Noel from PaleoLeap  
Serves 2
Ingredients:
2 ripe bananas
1 egg, beaten
2 tbsp raw honey
3 to 4 tbsp dark cocoa powder
1/4 tsp pure vanilla extract
2 tbsp sliced almonds
Instructions:
Preheat oven to 375 F.
Mix all ingredients except sliced almonds in a blender until smooth.
Pour liquid into two mugs; top with the sliced almonds.
Place in oven and bake 25 to 30 minutes.
Let rest 3 to 5 minutes before serving.

---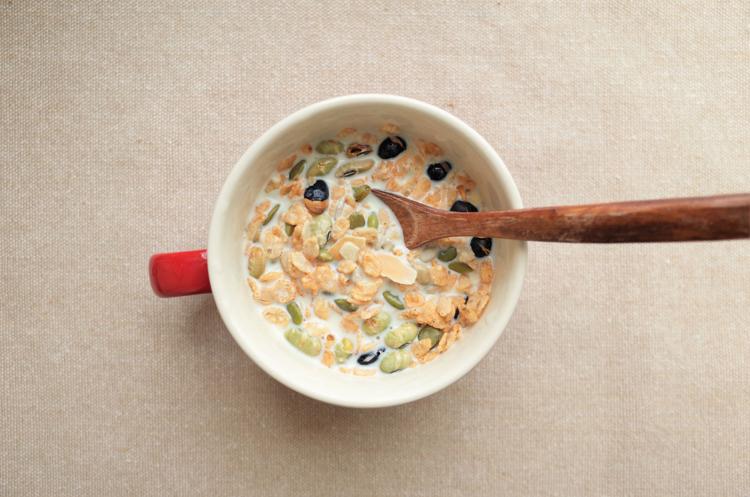 Shamelessly easy granola
Recipe by Camilla V. Saulsbury from Power Hungry
Ingredients:
1 tbsp pure maple syrup, honey or agave nectar
2 tsp water
2 tsp oil (e.g. olive oil, melted coconut oil, butter if not vegan)
1/8 tsp fine sea salt
1/3 cup quick-cooking or old-fashioned rolled oats (gluten-free if needed)
1 tbsp chopped nuts or seeds
Optional: 1 tbsp chopped dried fruit (e.g., raisins, apricots, cranberries)
Instructions:
In a large mug (14-16 oz), combine maple syrup, water, oil, salt, oats and nuts.
Microwave on medium power for 2 minutes. Stir, making sure to incorporate any syrup on the bottom of the mug. Microwave on medium power for 1-1/2 to 2 minutes until oats are golden brown.
Mix in dried fruit. Let cool for 2-3 minutes.
*Easy add-ins:
Sugar in place of syrup: An equal amount of sugar (any variety) can be used in place of the syrup; add 2 tsp more water along with the sugar.
Spices: Add between 1/4 tsp and 3/4 tsp of any sweet spice (e.g., cinnamon,
ginger, pumpkin pie spice, all spice) along with the salt in step 1.
Extracts & Zest: Consider adding a few drops of vanilla or almond extract to the syrup mixture, or 1/2 tsp finely grated citrus zest.