You've opened the windows in your home to let in the fresh air and warm sun, and heavy coats are stashed in the back of the closet. Now, dust off those gardening gloves so your green thumb can shine again. It's time to dig into the world of homegrown food.
From soil to table
A homegrown garden means no artificial fertilizers, herbicides, pesticides or GMOs, says David Friedman, a nutritionist in Wilmington, North Carolina. "Homegrown organic fruits and vegetables offer between 20 and 40 percent higher antioxidants than standard store-purchased varieties," Friedman says.
Olivia Wagner, a registered dietitian nutritionist in Chicago, says you connect more with food when you grow it yourself. "It's been shown to increase mindfulness when eating," Wagner says. "You may find that you approach your meal differently when you consider the time and effort you put forth in bringing your produce from garden to table."
A homegrown food garden provides good gut health, and exposing yourself to dirt and soil may support the immune system. Also, growing food at home reduces environmental waste via transportation and packaging.
Fresh home harvest
Tomatoes are the most popular and easiest fruit to grow at home, Friedman says. "Nothing tastes better than homegrown tomatoes picked fresh from the garden," he says. "They offer a great source of vitamins C, K and B6, folic acid, biotin and heart-healthy lycopene. Plant them in good soil, water them regularly and give them access to the sun. Whether you plant them in the ground or in a container, make sure you add organic compost to the soil. It's best to plant the seeds in the spring when the soil is warm."
Cucumbers provide vitamins A and C and folic acid. They don't require a lot of attention other than consistent watering. "Because the cucumber plant is a vine, they do well when trained to climb up a trellis or fence and can also grow well on the ground," Friedman says.
Zucchini provides manganese, vitamins C and A, magnesium and potassium. Zucchini plants require very little attention except sun and water, Friedman says. "Since zucchini seeds will come to maturity quickly, you should plant them in August for an early fall harvest," he says.
Basil, chives, parsley, oregano, thyme, cilantro, mint and rosemary are great to harvest at home, too, says registered dietitian nutritionist Libby Mills of the Academy of Nutrition and Dietetics. "I especially like cilantro because the plant can reseed itself, or you can help, and it quickly grows with regular water," Mills says. "Basil you can start inside and keep in a pot if you like."
Most herbs can grow inside, but keep them near a window so they can get direct sunlight. "If you grow them in an outside container, make sure they have excellent drainage, since herbs don't do well sitting in overly wet soil," Friedman says. "Aside from adding some organic compost to the soil, don't worry about fertilizing."
---
Recipes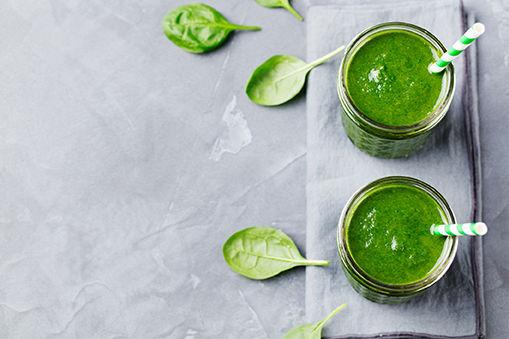 Detoxifying Green Smoothie
Need a reboot? This smoothie is packed with nutrients, fiber and easy ingredients to get you going — and it tastes great, too. Makes one serving.
Ingredients
1 cup packed kale leaves, stems removed
1 cup packed spinach leaves
juice of 1/2 lemon
1 green apple, cored and diced (approx. 1 and 1/4 cup)
1/2 cucumber, diced
1/2 teaspoon agave nectar (or raw honey)
1/2 cup filtered water
3 ice cubes
Directions
Cut cucumber in quarters lengthwise then slice off the inner corner of each one to remove the seeds. Roughly chop it then add to the blender along with the remaining ingredients.
Blend on high until smooth, transfer to a glass with a straw, then let the detox begin!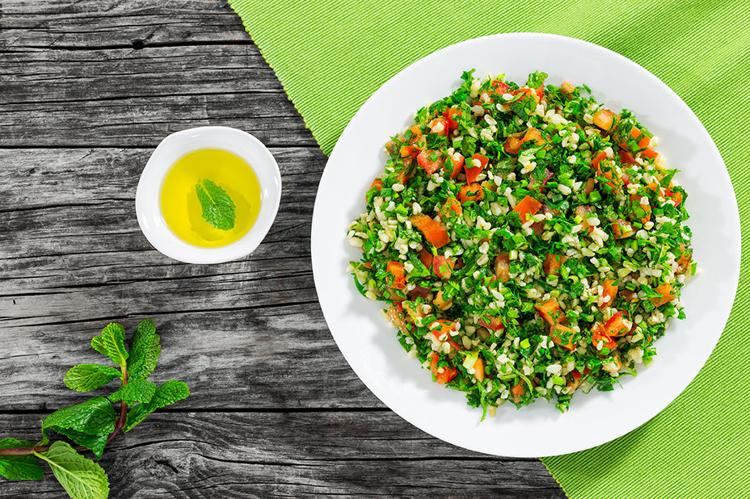 Tabbouleh
Make use of your at-home herb garden with this simple, healthy Lebanese salad. Eat it on its own, as a side dish or grab some pita chips for dipping. Makes eight servings.
Ingredients
1 cup bulgur wheat
1 1/2 cups boiling water
1/4 cup freshly squeezed lemon juice (2 lemons)
1/4 cup good olive oil
3 1/2 teaspoons kosher salt
1 cup minced scallions, white and green parts (1 bunch)
1 cup chopped fresh mint leaves (1 bunch)
1 cup chopped flat-leaf parsley (1 bunch)
1 hothouse cucumber, unpeeled, seeded, and medium-diced
2 cups cherry tomatoes, cut in half
1 teaspoon freshly ground black pepper
Directions
Place the bulgur in a large bowl, pour in the boiling water, and add the lemon juice, olive oil, and 1 1/2 teaspoons salt. Stir, then allow to stand at room temperature for about 1 hour.
Add the scallions, mint, parsley, cucumber, tomatoes, 2 teaspoons salt, and the pepper; mix well. Season, to taste, and serve or cover and refrigerate. The flavor will improve if the tabbouleh sits for a few hours.
Copyright 2001, Barefoot Contessa Parties!, All Rights Reserved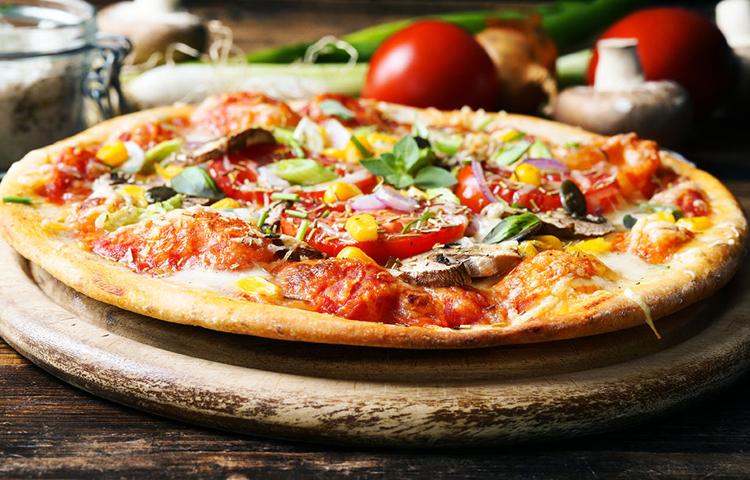 Roasted Vegetable Pizzettes
Perfect as a snack for the kids or an appetizer for your next party, these mini pizzas make tasty use of the veggies you've been growing in your garden. Makes six servings.
Ingredients: Roasted Summer Vegetable Puree
2 cups coarsely chopped, peeled tomato
1 cup coarsely chopped onion
1 cup coarsely chopped green sweet pepper
1/4 cup pickled hot banana peppers
3/4 teaspoon sea salt or kosher salt
3/4 teaspoon ground coriander
3/4 teaspoon ground cumin
2 tablespoons olive oil
1/4 cup peeled garlic cloves
2 -3 tablespoons water (optional)
2 tablespoons snipped fresh basil
Ingredients: Pizzettes
6 6-7-inch whole wheat or white pita bread rounds
4 ounces smoked mozzarella, thinly sliced
3 large assorted garden heirloom tomatoes, such as, Black Prince, Green Zebra, Sun Gold, Cherokee Purple and/or Brandywine, or regular tomatoes, cut into 1/4-inch-thick slices
4 ounces plain feta cheese or feta cheese with garlic and herbs, crumbled (1 cup)
Directions
For vegetable puree: In a large bowl, combine chopped tomato, onion, peppers, salt, coriander and cumin. Add olive oil; toss to coat. Spread mixture evenly in a 15x10x1-inch baking pan. Roast, uncovered, in a 400-degree oven for 30 minutes, stirring once. Stir in garlic cloves. Return to oven. Roast 20 minutes more or until the garlic is soft and the other vegetables are charred, stirring once. Let cool slightly.
Transfer vegetable mixture to a medium bowl. Using an immersion blender, blend until mixture is a chunky puree. (Or transfer to a food processor. Cover and pulse with several on/off turns until mixture is a chunky puree.) If needed, add 2 to 3 tablespoons water to mixture to get a spreadable consistency. (Mixture can be made to this point a day ahead. Cover and chill.) Stir basil into vegetable puree just before using.
For Pizzettes: Place pitas on two large baking sheets lined with foil. Bake in a 400-degree oven for 5 to 7 minutes or until light brown. Spread tops of pitas with roasted summer vegetable puree. Top with mozzarella cheese, tomato slices and feta cheese. Return baking sheet to oven.
Bake for 5 to 7 minutes more or until cheeses soften and tomatoes are heated through. Cut each pita into four wedges. Serve warm or at room temperature.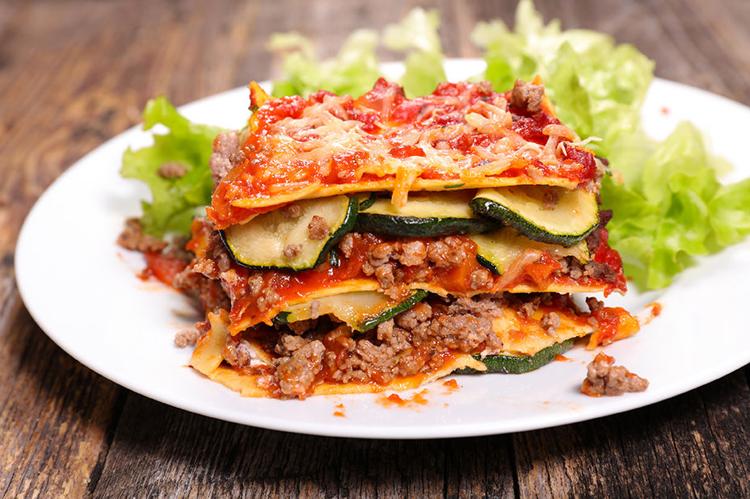 Roasted Zucchini Lasagna
This hearty dish replaces pasta with zucchini ribbons to put a vegetarian spin on a family-dinner staple. Makes 4 servings.
Ingredients
8 medium zucchini, sliced into 1/16-inch ribbons
Extra virgin olive oil, for brushing, plus 2 tablespoons extra
Sea salt and cracked black pepper
1 small onion, chopped
2 cloves garlic, crushed
2 tablespoons chopped oregano
1 bunch kale (500 grams), trimmed and blanched
1 bunch English spinach (375 grams), trimmed and blanched
2 1/4 cups (540 grams) fresh ricotta
1 tablespoon finely grated lemon rind
1 cup flat-leaf parsley, finely chopped
3/4 cup (75 grams) grated mozzarella
3/4 cup (60 grams) finely grated Parmesan
Directions
Preheat oven to 425°F (220°C). Place the zucchini in a single layer on baking trays lined with non-stick baking paper. Brush both sides of the ribbons with oil and sprinkle with salt. Roast for 12 to 14 minutes or until golden. Heat the extra oil in a medium non-stick frying pan over medium heat. Add the onion, garlic and oregano and cook for 4 to 5 minutes or until softened. Allow to cool slightly. Place the kale and spinach in paper towel or a clean tea towel and squeeze to remove any excess liquid. Roughly chop, add to the onion mixture and stir to combine. Place the ricotta, lemon rind, parsley, salt and pepper in a bowl and mix to combine. Line the base of a lightly greased 9x9-inch baking dish with one-third of the roasted zucchini. Top with half the ricotta mixture and half the kale mixture. Sprinkle with one-third of the mozzarella and Parmesan. Top with half the remaining zucchini, and the remaining ricotta and kale mixtures. Sprinkle with half the remaining mozzarella and Parmesan. Top with the remaining zucchini and sprinkle with the remaining mozzarella and Parmesan. Bake for 10 to 15 minutes or until crisp and golden. Slice and serve.
Via Epicurious.com