With a hashtag like #spinforkidz, it's not hard to see why the New Castle Community YMCA kicked off its third annual spin-a-thon event with a bang, or more appropriately, a spin.
"The Spin-a-thon has grown to become a fun, annual event that brings together our members and the community to enjoy a great workout for a great cause," says Maureen Knepshield, marketing director of the New Castle Community YMCA. "Our instructors really make this a fantastic event. Whether you're a seasoned spinner or spinning for the first time, they will motivate and encourage you."
Support for the kids
The event spun into action on Sept. 8 and was created as a fun way to support the New Castle YMCA Annual Youth Campaign, which allows the YMCA to fund programming for youth in the community, says Jessica Seminara-Tomczyk, board president of the YMCA.
"I fell in love with spinning and our spin instructors a few years ago," she says. "We thought what an awesome opportunity to feature a fun workout with awesome instructors and support the annual campaign in the process."
Such programs include a summer meal program; an initiative for seventh-graders, with which they're given free memberships; membership scholarships; and a free summer learn-to-swim program.
All the money raised from the Spin-a-thon will go directly toward the youth campaign, which serves thousands of local kids every year through mentoring, education, athletic programs and more.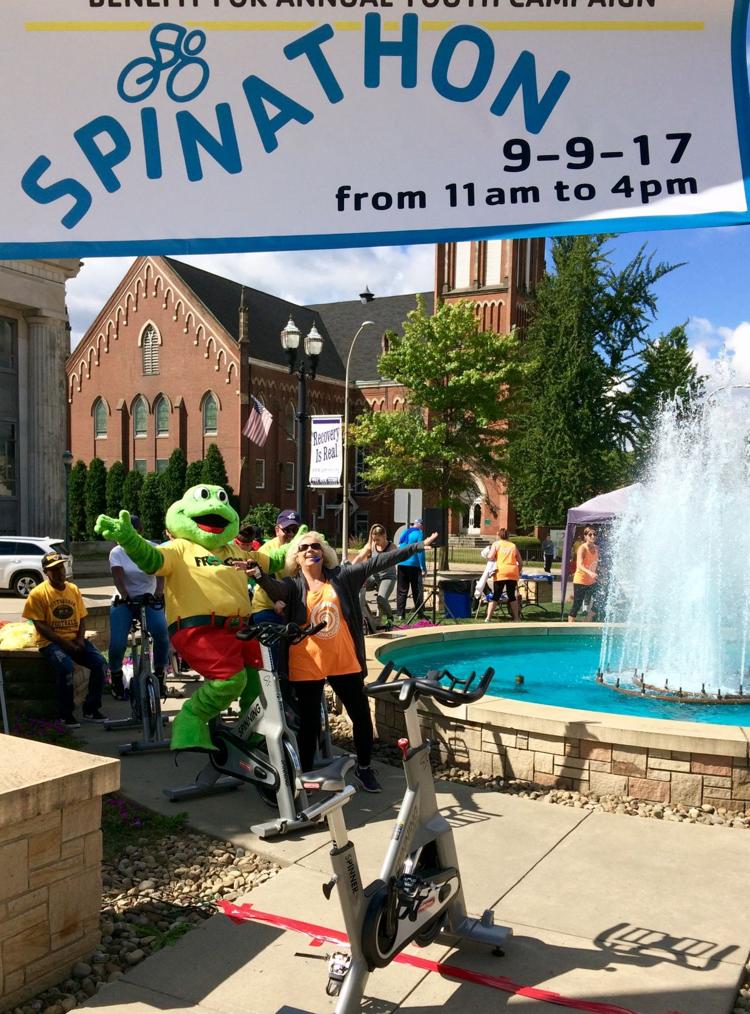 "We have financial assistance available for anyone regardless of age, but for the youth campaign it enables us to provide completely free memberships to those who need it," says Michelle Swogger, the YMCA's senior director of membership engagement. "So that money is very much a vital part of how we help and provide great programs for our youth."
Circles and cycles of fun
In addition to prizes, enthusiastic instructors, a live DJ and local radio stations, Spin-a-thon participants got to enjoy a 30-minute outdoor spin led by a YMCA spin instructor around the fountain outside the center.
"We bring our spin bikes outside and set them up around the fountain in downtown New Castle and spin from 9 a.m. to 1 p.m.," Seminara-Tomczyk says. "The event continues to grow every year. Participants range from individual participants to teams from local businesses. Anyone can participate, 16 and up."
Swogger says she's been involved in every Spin-a-thon so far. Although she's not an instructor for the event, she does "hop on a bike from time to time throughout the day."
And with the success of this year's event and thinking about future spin-a-thons, Swogger is "looking forward to the fact that this is now becoming a tradition for some businesses to take part in this. So it will be fun to see friendly faces as well as new ones."