Root canals and comedy clubs. It's true that one is significantly more pleasant than the other, but they share the same goal: To put a smile on your face. There is another commonality. Both are among the patient services at Brockport Smiles, a dental office with a fresh approach to patient care and oral health.
All in the Name
As self-described "smile-makers," Brockport Smiles owner Dr. Max Thaney, DDS, and Dr. Mike Kozlowski, DDS — known affectionately as Dr. Mike — helm a practice that is equal parts dental office and an active member of the greater community.
"We make people happy and healthy at the same time," Thaney says. "We provide great experiences inside and outside our doors."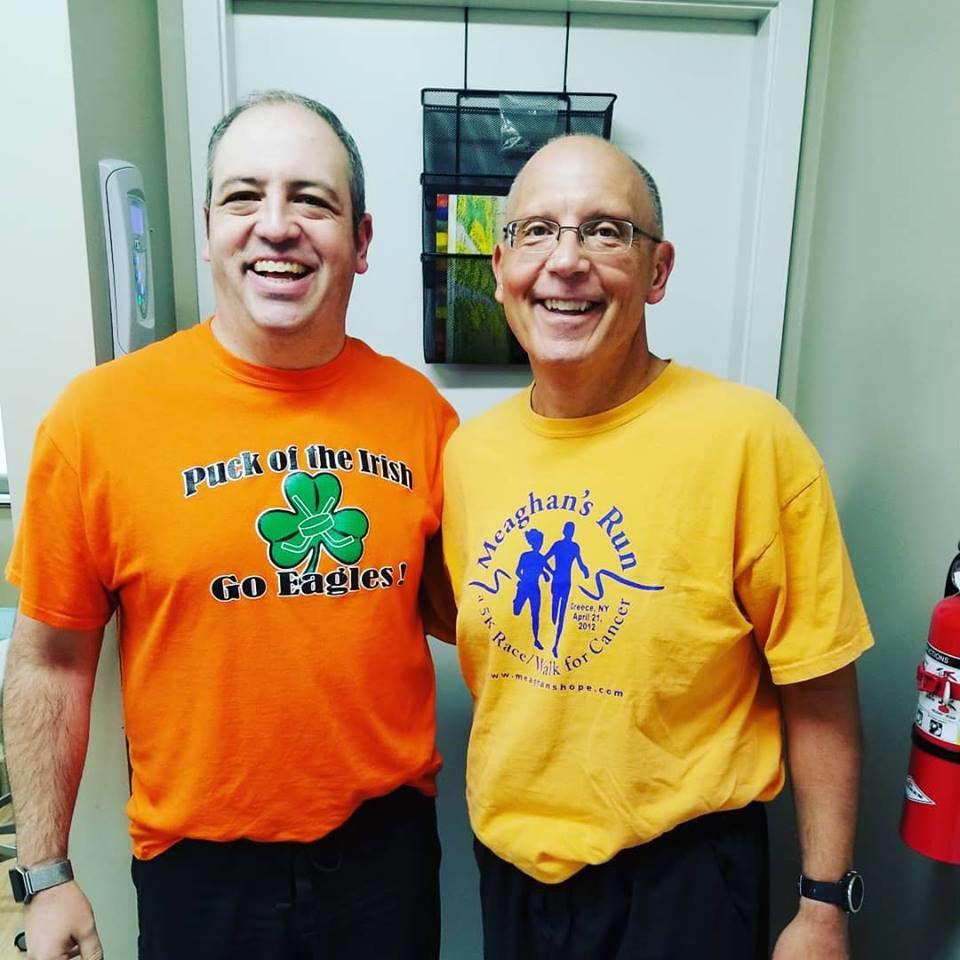 Thaney originally grew up in Chili, a suburb to Rochester. He graduated from dental school in 2004 in Canton, Ohio, then returned to the Rochester area. His father, a small business owner, worked in Brockport. From him, Thaney learned you can make your community as great as you want it to be.
"We're a little different here," Thaney says. "We don't just clean teeth and worry about your insurance. We take care of the person first."
Empowering Patients
Thaney believes if patients have a good understanding of what's happening to them and what's available, they will make the right decisions in regard to dental care. New patients meet with either him or Kozlowski, who take time to get to know the people and learn about their goals. By assessing what's happened in their past and looking ahead at what may happen in the future, the dentists can provide options. This empowers patients to take the best courses of action.
Those choices entail a wide range of services, including a few surprises. Standard dental procedures such as root canals, crowns, bridges, fillings, annual cleanings and other family dentistry services are available, as are cosmetic dentistry options including implants and Invisalign®.
Dentistry at Brockport Smiles also includes sleep-related issues. Teeth positioning and jaw bone development affect where your tongue lies and your breathing, and to this end Brockport Smiles addresses sleep-related problems such as grinding teeth and jaw pain.
"We stress whole health," Thaney says. "That's the goal, to leverage technology and time to make sure you're living the best life you can."
High Tech
Brockport Smiles is up on technology. There are special cameras to help with oral cancer screenings, and it was one of the first practices in Rochester to use the CEREC Omnicam, a digital camera used to take images that work with a computer program to fabricate 3D-printed products such as crowns, night guards, bleaching trays, splints and dentures.
Brockport Smiles has been a beta tester for 3M products and has tried out different materials for the CEREC machine. In these cases, the office uses it as an opportunity to provide pro-bono dental work.
Healthy Community
Looking for opportunities to help patients and play an active role in the greater community is part of the Brockport Smiles culture. The practice has donated custom mouth guards to the Brockport High School hockey, football and lacrosse teams. Brockport Smiles also donated 250 mouth guards to the tri-county youth hockey club.
There's a lot of fun to be had, too. Each of the past four years, office staff members have participated in Brockport's winter parade with a float theme inspired by the movie "Elf." For Dental Health Month in February, Thaney made a presentation to kindergartners and first-graders.
"We held a floss contest," Thaney says. "I flossed teeth and kids danced the floss dance. The court of public opinion decided the winner — the dancers won."
Healthy Fun
Recognizing that genuine smiles are fueled by physical and mental health, Thaney hosts parties so his patients can have a good time outside of the dentist's office. He's hosted bowling parties and even rented out an entire theater when the most recent "Star Wars" movie was released. When the office expanded, he arranged for a celebration that featured live music in the parking lot, and in 2018, for Dr. Mike's 40th birthday, Brockport Smiles rented out Comedy at the Carlson. About 175 patients showed up to laugh, meet Kozlowski and have some fun.
"Not everyone is super excited to go to the dentist," Thaney says. "Giving people a chance to talk outside the office reduces fear and anxiety. It's also a way for us to say thank you. Everyone dreads walking in for a root canal, but not a comedy show. We make the dentist fun and rewarding."