Mary Maslanik credits a mammogram with saving her life. In May 2016, doctors at Thompson Health gave the Canandaigua woman some concerning news — they had found something "suspicious" and asked her to return for a second mammogram. When Maslanik returned to Thompson Health, the suspicious growths had increased in number. A biopsy revealed the early stages of breast cancer.
Maslanik's diagnosis was surprising to her, especially because there was no history of breast cancer in her family. Despite the shock of being diagnosed, Maslanik did not waste time feeling sorry for herself, but became proactive and aggressive in seeking treatment options. She took hold of her emotions, told herself this was the hand she'd been dealt and considered her options as far as getting on the fast track to better health, and after consulting with her doctors Maslanik scheduled a double mastectomy and reconstructive surgery.
Although the double mastectomy was precautionary, Maslanik says she and her physicians agreed that an aggressive approach was necessary for the type of breast cancer she was diagnosed with.
"Instead of always looking over my shoulder and wondering if it was going to come back, this was the best way to not get cancer again," Maslanik says. "It was too big of a risk to think about it coming back."
Don't Risk It
Preventative measures like mammograms are highly important to the future of Thompson Health. The health care system has become proactive in reaching out to patients from its nine Finger Lakes-area primary care locations to remind them of the importance of scheduling such tests.
If it wasn't for that professional and personal treatment she received at Thompson, Maslanik isn't sure what her medical prognosis might have been.
"They noticed something was wrong and they wanted to take care of things right away," she says. "They were nice and supportive through the whole thing."
While the double mastectomy removed the cancer, Maslanik says she did have to deal with an infection that kept her in the hospital. But, with her stoic nature, she realized an infection was a preferable option to cancer.
"I don't look at things like this as a tragedy," she says. "This was something that could be overcome. I had to do what I needed to do to become better. My thing is I'm cancer free. If you set your priorities, it gives you a better perspective on things."
While there is no history of cancer in Maslanik's family, that doesn't mean she's never been touched by the disease. She had a close friend die from cancer. By Maslanik not putting off her mammogram, her doctors were able to discover the tumor early on and deal with it before the disease progressed.
After her experience, Maslanik says she reminds her friends how important it is for women to get mammograms.
"I never felt any lumps … it was the mammogram that discovered my lump," she says.
Get the Test
Another Thompson patient, Lois Main, has had several lumps discovered in her breasts by mammograms. So far none of them have been deemed cancerous — a relief to her, as there's a history of cancer in her family. Her mother and two aunts have had breast cancer.
"I've always been an advocate for mammograms," says Main, 75, of Geneva.
Because of that family history, Main is vigilant in maintaining her scheduled appointments, and for good reason.
"Whether or not you have a lump, just get it done," Main says. "It's that important. You have got to do it. Period. End of story."
She credits her military background for the discipline with which she approaches her health care. It's something she tries to instill in other women, particularly those who may shy away from the mammogram because they believe pain is associated with the exam.
"Oh, it's maybe 10 seconds," she says. "It's more comfortable now than it was 10 years ago. With the new technology it's not a lot of time when the breasts are compressed."
Because Main receives scheduled mammograms, she dramatically increases the chances that any cancer would be caught early — much like Maslanik's was. That screening process is the best way to determine if anything is wrong, says Dr. Avice O'Connell, director of women's imaging at the University of Rochester Medical Center, and medical director for Thompson's Breast Imaging Center.
"Unlike lung cancer, we really don't have a good way to identify who will get breast cancer," O'Connell says. "People have to go through the screening process to determine if there's anything wrong."
If a cancer is found when the tumor is small, O'Connell says patients can typically expect a much better outcome than if the disease is more advanced. There are numerous types of breast cancer, such as Triple-A negative or Her2-positive, but all can be revealed through mammograms.
"Until there is a better identification process for determining who will get breast cancer, the mammography is one of the best screening processes people can undergo," O'Connell says. "It may not be the most comfortable procedure, but it's the best we've got. It's the gold standard."
Doctors recommend women start with annual mammograms at the age of 40 and continue until at least the age of 75. And not just women are diagnosed with breast cancer. O'Connell says one percent of patients are men. If men of a family have a of being diagnosed with breast cancer, those men are at greater risk and should receive mammograms, she says.
O'Connell says it's important to understand how essential the test is for your health.
"Just get the darn mammogram," she says. "It's a momentary discomfort, a few seconds, it's not long, it's not nice … but it's essential. It's better to get an exam with some pressure than not to get an exam at all."
Colonoscopies
It's not only breast cancer with which Thompson Health is concerned. The health care system is also taking a proactive approach to treating colon cancer. Thompson actively encourages patients to undergo colonoscopies to determine if cancer is present or if there are any other possible diagnostic concerns.
Typical guidelines call for healthy patients who have no family history of colon cancer to begin requesting colonoscopies at the age of 50. Much like the mammogram, a colonoscopy is a procedure that can determine the presence of cancer with a high rate of certainty.
Lynn Holmes put off a colonoscopy for years. He intended to get one, but he lost his insurance after retiring and decided to wait until he was covered by Medicare before he scheduled the procedure. Holmes, of Springwater, finally got one last year when he turned 65.
Many men tend to shy away from preventative treatments such as colonoscopies and prostate exams for a number of reasons, including financial concerns, pride and feeling vulnerable. Holmes certainly understands the financial aspect of putting off a medical procedure that costs about $3,900, which insurance covered. However, when it comes to the other concerns such as pride and vanity, he says once he went through the process it was quite easy and nothing made him feel uncomfortable.
"There's nothing to it," Holmes says.
Before his procedure, the gastroenterologists at Thompson explained the process to Holmes, step-by-step. Once the procedure was started, Holmes saw that everything was proceeding exactly as it was explained.
While he called the colonoscopy itself a great experience, Holmes pointed to one part of the process that he didn't care for: drinking the solution that helps clean out the bowels.
"That was the worst part, drinking that liquid," he laughs. "That was a lot of liquid."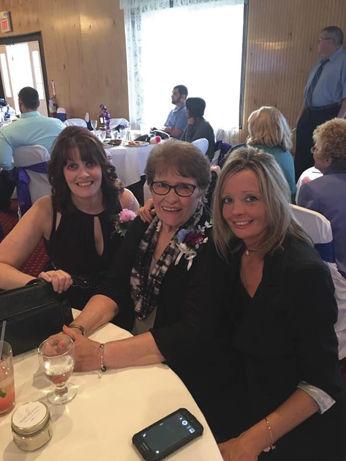 Carole Gath agrees with Holmes about the solution.
"The prep is the worst," Gath says. "The liquid doesn't taste good, and you can't eat anything. Once you get past that though, everything is pretty easy."
Gath, 72, of Canandaigua, has gone through a number of colonoscopies. While there has been no indication of cancer, polyps have been found on at least two occasions. The polyps were removed and results were negative. However, because of the presence of polyps, she is diligent about receiving a colonoscopy once every three years.
"We're keeping a watchful eye on things," she says. "This is something I know has to be done to maintain good health, so I do it."
Process Simplified
During the procedure patients like Holmes and Gath are sedated before a miniature camera is inserted through the anus, past the large intestine and into the colon. Physicians use the cameras to look for any polyps, which are small clumps of cells that form on the lining of the colon, as well as ulcers and other abnormalities. When polyps are discovered the physician uses a miniature scalpel to extract the cellular clumps so they can be sent off and tested for cancer.
In Holmes' case doctors found six polyps in his colon. The discovery was a bit unnerving for Holmes, particularly since two of the polyps were "questionable."
"It's a weird feeling to be told that something could be cancer," he says. "Thankfully things turned out OK, but if they had been left longer they could have turned into cancer. That's why it's important for people to get the colonoscopy. I know not to be stupid now and put it off for more years. I'll be going back when my doctor tells me it's time."
When he was told he did not have cancer Holmes says it was a "big weight" off his chest, particularly since his mother was diagnosed with pancreatic cancer and he lost his brother to cancer. Since then he has urged others to get the test.
Dr. Raymond Thomas, a gastroenterologist and member of the F.F. Thompson medical staff, says a colonoscopy is highly recommended as a preventative treatment for colon cancer. He says the polyps found in the colons of many people can become cancerous if they grow without treatment.
"Small polyps become larger polyps, which can make overtures for cancer," Thomas says. "The goal of a colonoscopy is to find polyps and remove them to prevent cancer. Not every polyp will become cancer, but we want to remove them as a preventative measure. The larger the polyp the greater the chance of cancer."
A colonoscopy is not a long procedure and takes between 15 and 30 minutes, typically, depending on how many polyps are found and how thorough a gastroenterologist is in exploring the colon. They typically find polyps in about 50 to 60 percent of people, Thomas says. Most of the polyps are benign and they have no pre-cancer characteristics.
If Thomas discovers a polyp that appears questionable to his naked eye, he is able to mark the spot in the colon with ink after he removes the polyp. That way, if there is a question about possible post-colonoscopy surgery, any surgeon will be able to find the exact spot that is in question.
Dr. Jonathan Wilmot, another gastroenterologist and a member of F.F. Thompson Hospital's medical staff, says doctors will recommend follow-up colonoscopies anywhere from one to 10 years after the colonoscopy, depending on the number and size of polyps found during the initial procedure.
"Studies have shown that colonoscopies save lives," Wilmot says. "One of the benefits of a colonoscopy is we can detect cancer at a very early stage, which will benefit any treatment. This is one of the most important exams that a patient can have in their lives."
Wilmot says patients shouldn't experience any pain following the procedure, but they might feel some gas due to air from the tools being used during the process.
When it came time for his colonoscopy Holmes had several options for where to get the procedure, but for him there was really no choice. He had always had good experiences using Thompson Health and wanted that to continue.
"I love that hospital," Holmes says. "I've always had good experiences there. There's one hospital about seven or eight miles from my house, but I'd rather drive the 35 miles to go to Thompson."
Gentle Reminders
That kind of service is something Thompson has been striving to provide, says Kurt Koczent, a former registered nurse and current chief operating officer at Thompson Health. For the past year, Thompson has made a concerted effort to increase compliance with recommended colonoscopy and mammography screenings with their patients. The health care system has examined how many patients are overdue to receive the two examinations and have reached out.
Thompson has been proactive in reaching out to patients, using an educational approach. Thompson mails notes and administers phone calls as gentle reminders that patients need to receive the preventative treatments.
"People are pleased to see their doctor is making the extra effort," Koczent says.
Such business practices will become the norm, Koczent hopes. Thompson has also added weekend and evening hours to accommodate patients.
"We see our community and their wellness as our responsibility," he says.