Look around your gym or your office, and there's a good chance someone will be wearing a fitness tracker on their wrist.
In a few short years, devices like the FitBit, Jawbone and a growing list of other wearable fitness devices have become a regular part of our everyday routines. Now, some tech companies are introducing another type of wearable device capable of doing something more essential than tracking calories and steps.
The idea: a safety device that combines phone, text and other communication abilities into a small—and stylish—wearable accessory that can be pressed to alert police, friends or family members if you run into trouble. Some products can be worn on a necklace or bracelet, while others can be clipped on a belt, purse or pocket.
Anthony Gold, co-founder ofROAR for Good, which is gearing up to release its Athena wearable safety device after two years of design work, says many people—particularly women—seem to be looking for a new tool for protection.
In market research for the Athena device, he says the company found that some women who carry pepper spray or other tools for protection still worry they could be overpowered by an attacker.
Gold says wearable devices provide a discrete way to let others know you're in trouble, especially if it doesn't look like you'll be able to escape. Like many other developers of wearable safety devices, Gold and his partner ran an online funding campaign to get the product off the ground, and found an even higher level of demand than they'd expected.
"Our goal was that if we could do $40,000 in preorders, that would be a pretty good indicator," he says. "We hit $40,000 by the second day, $100,000 by the 10th day and ended up doing about $300,000 in preorders for the Athena."
That device is expected to start shipping out later this year, while some other developers are still looking for investors willing to pitch in cash or preorder to get their businesses up and running.
Some, including the developers of the Athena, are also still working out the specifics of the technology, trying to ensure the devices can get messages out to 911.
So should you order one of your own? Sure, says Los Angeles-based women's safety expert Jennifer Cassetta—as long as you're also packing skills for self-defense. She says anything that can enhance your safety is a good thing, but only if you know how to use it and have it ready to go in the event of an attack.
"It can tell your contacts that you're in danger, but it could still take up to 15 minutes for anybody to come save you," she says. "So if you don't know proper self defense in the moment, you're still at a disadvantage."
---
FASHIONABLE SECURITY
Most wearable safety devices, whether in the form of jewelry or simple panic buttons, sync with a smartphone app to help you connect to friends, family and 911 to get help when you need it. 
SAFER SMART JEWELRY (pictured above)
$30 | LeafWearables.com
SAFER features an SOS button that will send emergency alerts to appointed "guardians." It also comes with SaferWalk, which shares your location live with loved ones when you feel unsafe and it helps you navigate to the nearest hospital or police station.
ATHENA
$79 | RoarForGood.com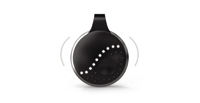 Now available for preorder and expected to be released in fall 2016, Athena can be worn as a necklace or clipped onto your belt or purse. It sounds a loud alarm and will send an alert with a map of your location to loved ones.
SIDEKICK
$80 | ReactMobile.com 
This small white device works with your phone to notify your contacts if you run into trouble. It can be worn on a clip or keychain carabiner.