Since he was first diagnosed with Parkinson's disease in 2002, Dr. John Paul has done whatever he can to assure others in the community have the knowledge and resources they need to deal with the progressive neurological disease.
The retired veterinarian got involved with the Parkinson's Foundation of Greater Rochester, later founding the now-thriving Parkinson Support Group of the Finger Lakes in 2008 so other area residents affected by the disease wouldn't need to travel to Rochester for education, hope and information. The following year, he agreed to share his story through a series of articles in the local newspaper, and has remained a resource for the paper ever since.
It seems only fitting then, that when F.F. Thompson Hospital speech-language pathologists first began offering a therapeutic protocol developed by the Parkinson Voice Project, the Canandaigua man became their first patient.
Called SPEAK OUT!®, the protocol is designed to improve and preserve the voices of individuals with Parkinson's and Parkinson-plus syndromes. During 12 individual speech therapy sessions, the patient and the speech-language pathologist work their way through a series of speech, voice and cognitive exercises outlined in a comprehensive workbook.
Inga Simning, one of four Thompson speech-language pathologists who completed the SPEAK OUT! training, explains that as Parkinson's progresses, individuals typically see a pattern of decreasing volume of speech, articulation accuracy, vocal quality and saliva management. This results in speech that is difficult to hear and understand.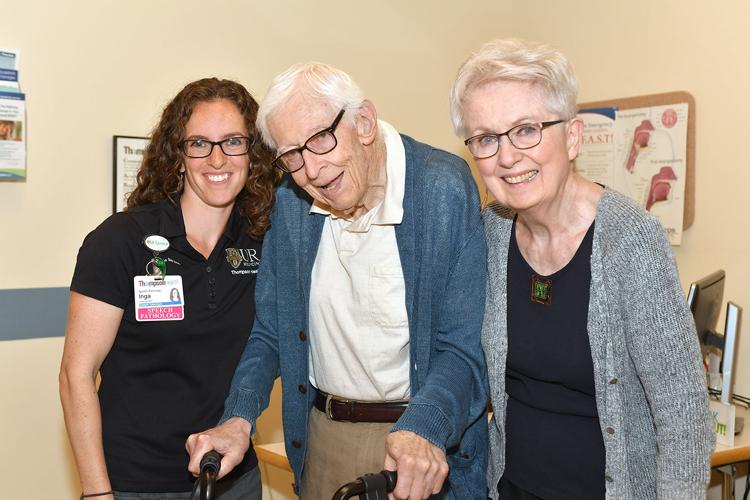 "Individuals find that they are asked to repeat themselves frequently, spouses often become frustrated with communication difficulties, and social isolation can result," says Simning, noting that without treatment, these speech deficits continue to worsen, often to the point an individual with Parkinson's is unable to communicate verbally.
The SPEAK OUT! program encourages patients to "speak with intent" in a confident and deliberate fashion. Speaking with intent bypasses the neuropathways impaired by Parkinson's disease, resulting in a stronger, clearer voice. The practice tasks can also strengthen the muscles used in swallowing. This lessens the risk of aspiration, which is common with Parkinson's disease.
Paul says he is happy with the results and has noticed a difference. So has his wife, Pat Smith. She first learned of the therapy in 2016 when she participated on the program of the first-ever Parkinson's caregiver summit, having served on the planning committee. The summit was held in Portland, Ore., at the same time as the World Parkinson's Congress, so summit planners were welcomed to participate in the congress, which featured a SPEAK OUT! exhibitor booth.
"There were people there who had taken this training years before, and they were still speaking well," she recalls.
The LOUD Crowd® is a long-term maintenance program for patients who have completed SPEAK OUT! therapy. It is generously supported by a grant from The Parkinson Voice Project. Members of the LOUD Crowd gather together for a group therapy session once a week at Thompson Hospital in Canandaigua to preserve the improvements made during the course of SPEAK OUT! therapy.
"An interesting thing about The LOUD Crowd is that the feedback from other members is helpful," Paul says.
Smith agrees. "If you don't use it, you lose everything you've gained," she says of the opportunity to work – together – on maintaining progress.
Simning says The LOUD Crowd participants also benefit from once-a-week observation by a speech pathologist who will encourage them to come back to speech therapy if they appear in need of a "tune up."
Those interested in SPEAK OUT! therapy, which is covered by insurance, must first get a script from their doctor for a speech evaluation. For more information, call the Department of Speech Pathology at Thompson Health at (585) 396-6057 or go to ParkinsonVoiceProject.org/SPEAKOUT.
Additional Support Available
The Parkinson Support Group of the Finger Lakes meets the last Wednesday of each month, from 1 to 3 p.m., at Wood Library in Canandaigua. Caregivers are welcome to attend, with or without their partners. For information, email psgfl9@gmail.com.
This article was originally published by Community Health for WellnessHUB Wire.