When Amy Foy was 36 weeks along in her pregnancy, she and her boyfriend James Stenzel learned the baby girl Amy was carrying was breech. Instead of a vaginal birth, little Paisley Rose would need to arrive via caesarean section.
To some expectant parents, the word "caesarean" can conjure up images of a cold, sterile environment and an experience more like an operation and less like a birth.
But as Foy and Stenzel soon learned, Thompson Hospital's Birthing Center offers "family-centered" C-sections, also known as "gentle" C-sections. And that put the Seneca Castle couple's minds at ease.
Sure enough, when Paisley came into the world on June 22, the nurses held up a mirror so Amy could see her being born. They then made sure both parents got to hold her right away — instead of waiting while she was whisked off for assessments. In addition, one nurse took plenty of photos. Those were just a few of the personal touches designed to make the delivery as comfortable as possible.
"They actually allowed us to have our own playlist," says Stenzel, noting that his daughter arrived during "Something Just Like This" by Coldplay and The Chainsmokers.
While a natural birth is, whenever possible, the ideal way for a baby to be born, and Thompson has one of the lowest C-section rates in the region, Foy has this advice for moms who do need a C-section and are having it at Thompson: "You definitely don't need to worry about it — it's definitely family-friendly."
Crystal Campo can vouch for that.
With three older children, the Seneca Falls woman had already experienced three caesarean sections, but as the birth of her fourth child approached, Campo and her husband David knew well in advance that this C-section at Thompson would be different because it too would follow the family-centered approach.
Kaleb Lucas was born as Campo's favorite contemporary Christian music played in the operating room on Aug. 22.
"I was able to experience it more," Campo says. "You feel more involved, and that makes it less scary."
For Campo, the immediate skin-to-skin contact was one of the best parts.
"You actually get to have that first connection instead of waiting, and it was wonderful," she says.
Dr. Catherine Cantwell delivered the Campos' son and says she had realized over the years that sometimes mothers felt "detached" during a C-section. She even had one patient tell her it felt like the birth "was happening to someone else."
"It was this response that led me to start offering a mirror for mothers to see their babies' births," Cantwell says, noting other essential components of the family-centered C-sections came along as the approach evolved at Thompson. "We try to keep the emotional vibe light and joyous while never sacrificing the safety and well-being of mother and baby. Often, the nursery nurse can do her first newborn assessment as the baby is being warmed by the best heater, his or her mother."
Dr. Jillian Babu also performs family-centered C-sections at Thompson. Like Cantwell, she's a big advocate of the approach, especially because lack of control and fear of the unknown can be difficult for expectant moms.
"I often tell patients not to get caught up in planning the details of their birth because every baby writes its own story, and we're just here to make sure everyone is safe when we get to the end of the book," she says. "Barring any emergencies that impede our ability to perform a family-centered birth, Thompson is fabulous at creating the right experience for the mother and her birth partner."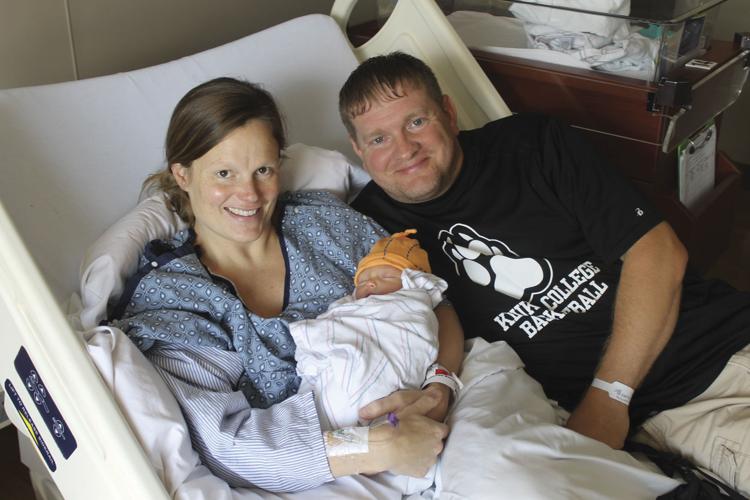 Tiffany and Thad Phillips agree.
The Keuka Park couple welcomed their second child, Trenton, via a family-centered caesarean on Sept. 5, and it was quite different than the birth of Trenton's older brother, delivered via an emergency C-section two years ago.
For Tiffany, one of the best parts was when the team partially lowered the curtain and held up the mirror.
"It was nice to see him come right out," she says. "It sets your mind at ease."
Thad, who got to hold Trenton in the operating room and cut the cord, says he appreciated a nurse taking lots of pictures for the family on his cell phone, and how the team answered all his questions and made sure he was involved.
"They definitely go above and beyond to make sure it's as personable as possible," Tiffany says.
To learn more about having a baby at Thompson Hospital, visit ThompsonHealth.com/BirthingCenter.